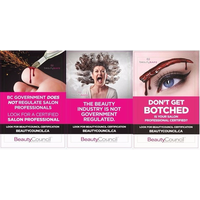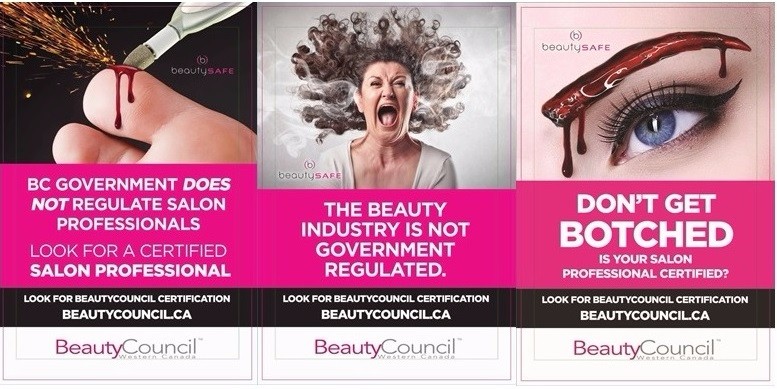 What is our Consumer Campaign all about?
Very simple, the Cosmetology Industry needs to be regulated making programs such as BeautySafe and Certificate of Qualification a mandatory bylaw within each Municipality and the Province to ensure proper health, safety and procedures are practiced by Beauty Professionals.
Consumer protection is the HIGHEST PRIORITY!! Help prevent cross contamination and the spread of infection and disease.

Ask yourself "Would you like a family member or yourself to contract a life-threatening disease or infection because our Government feels it is unnecessary to regulate the Beauty Industry and not implement programs such as BeautySAFE?"
Regulation and programs like BeautySafe will ensure health, safety, proper sterilization and sanitation will be held to proper standards – BeautySAFE is a must!
Beauty Professionals with a Certificate of Qualification shows "Consumers" they are in hands of professionals.
Beauty Professionals need to comply to using professional products to protect consumers.
Our Government's DEREGULATION OF COSMETOLOGISTS
Cosmetologists and Barbers used to be regulated under the Cosmetologists Act, the Barbers Act and regulations. This legislation, dating from the 1920s, required cosmetologists and barbers to join respective associations, be certified by a Board of Examiners and pay annual dues. These acts and related regulations were repealed on December 31, 2003 in order to save Government funds. As a result, Cosmetologists and Barbers in BC are no longer required to have licences or meet any training requirements. For nearly 75 years BeautyCouncil, the Cosmetology Association of Western Canada (formerly Hairdressing Association of B.C.), was a provincial government regulatory body for the cosmetology industry. When government regulation ceased in 2003, the industry created a voluntary association comprised of caring, driven and committed professionals who recognized a need for industry standards to be upheld.
The current lack of licensing and lack of mandatory training requirements for Cosmetologists, Barbers, Estheticians, Nail Technicians, Permanent Makeup & MicroBlading Technicians, EyeLash Extension Technicians, Tattoo Artists and Laser Technicians has led to concerns about consumer protection. It is felt that the lack of regulation poses a risk to Consumers if Cosmetologists are inadequately trained in the proper use of potentially harmful chemicals and equipment and maintaining the proper sanitization and sterilization standards that the BeautyCouncil up holds.
Today we continue to oversee the growth and development of training, certification, advocacy and events for Western Canada's Beauty Professionals. We are a member driven, non-profit organization that fosters private sector partnerships, advances the interests of the industry and raises professional standards.
Our mission is clear, we are here to help Professional Cosmetologists realize their full potential.
Questions to ask yourself….
How would a Beauty Professional prevent a fungus or infection from spreading if they were not taught proper sanitation and sterilization?
Would you allow a doctor or a dentist to perform surgery or work on your teeth without proper education and examinations?
Have you ever asked your Beauty Professional what their qualifications are and do they have their BeautySafe certification?
With services like MicroBlading, Permanent Makeup, Shaving, Eye Lash Extensions, Waxing, Manicures and Pedicures to name a few where skin is, or can be broken and body fluids are involved, have you stopped to think if the Professional has Sterilized correctly?
Look for the BeautySafe Certification
What is BeautySafe…
BeautySafe is a program designed in response to the public's concern, relative to continually surfacing viral and bacterial strains and the Cosmetology Industry's ongoing need for information and awareness about the best practices and their legal responsibilities when providing personal services to protect themselves and their clients.
BeautySafe incorporates standards recognized across Canada encouraging all Hairstylists, Barbers, Estheticians, Make-Up Artists, Nail Technicians, Cosmetic Tattoo Artists, MicroBlading Technicians, EyeLash Extension Technicians and Tattoo Artists to be certified and maintain these high standards to reduce the spread of bacterial infections and communicable diseases like HIV and Hepatitis B and C.
HELP SUPPORT OUR CAUSE - Contact your Government Representative to Help….
Municipal Government Contacts - CLICK HERE
Provincial Government Contacts - CLICK HERE
Federal Government Contacts - CLICK HERE
The city of Surrey insists that when opening a Spa in their Municipality that the Beauty Professional have their Certificate of Qualification in order to receive a business licence. We are asking that you contact your local Government Representative and ask for them to ensure that they adjust their bylaw to include BeautySafe and C of Q to ensure proper practice and to prevent cross contamination…. It's your health!!!
For media inquiries please contact : media@beautycouncil.ca
---