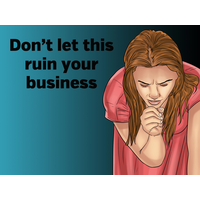 Salons and spas are places of close contact. From an initial handshake or hug to the touching and contact that accompanies each service, any salon or spa is the perfect place for a virus to spread. People everywhere are deeply worried about contracting Coronavirus (COVID-19) as we have seen on the news and in the streets.
So, how can you protect your clients, yourself, and your team from spreading COVID-19? We offer this primer for you as we go into the second week of public concern about this threat. Scroll to the bottom of this message to get 25% off BeautySafe this week only.
How does COVID-19 spread?
Human coronaviruses cause infections of the nose, throat and lungs. They are most commonly spread from an infected person through:
respiratory droplets that are spread when you cough or sneeze

close personal contact, such as touching or shaking hands

touching something with the virus on it, then touching your mouth, nose or eyes before washing your hands.
How can you protect yourself from getting COVID-19?
You can stay healthy and prevent the spread of infections by:
washing your hands often with soap and water for at least 20 seconds;

avoiding touching your eyes, nose or mouth with unwashed hands;

avoiding close contact with people who are sick;

coughing or sneezing into your sleeve and not your hands; and

staying home if you are sick to avoid spreading illness to others.
What is BeautyCouncil doing to help?
Our BeautySafe program is now on an easy to use platform and you can be certified today through the online program. As a valued member, you can save 25% this week with our promo code NOCOVID25. BeautySafe will help you operate in a safer way and will train you in how to avoid transmitting COVID-19. You will also learn valuable skills to avoid transmitting other bacteria, viruses, fungus, and parasites.
BeautyCouncil will be starting a public awareness campaign to the public on YouTube, Google, Facebook, and Instagram to prompt people to ask if salons are certified in BeautySafe. Get certified today and protect yourself and your business.
---