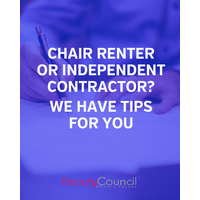 Updated March 24, 2020
Now that all beauty professionals have been ordered to stop working, how can chair renters and independent contractors navigate the next few weeks and months? At the BeautyCouncil, we have these guidelines for you. Quick note, for this article, we're calling the owner or property owner a "landlord". We use this term because we view this as a landlord-tenant relationship. It might help for you to view it this way as well.
Stay calm and collected.

Gather your documents.

Reach out and be candid with your landlord.

Do not be bullied.

You have rights and options.
Step one: Stay calm and collected.
It might seem like the sky is caving in; remember that this too shall pass and one day you'll be back doing what you love. If you approach your situation in a reactive way, you may make a move you regret later. Respond to this situation with patience and professionalism, just the way you do in your work. There is help for you personally (link at end of this article).
If you have someone to speak to who is outside your work, it can help. Seek perspective and ask for advice on any significant choice you want to make. Find a friend, a family member, or even an old school chum. If you feel alone, shoot us a note – that's why we are here!
Step two: Gather your documents.
Pull together what you have. Paper contracts, emails, notes, or your own recollections of a verbal agreement. If you don't have a copy of your agreement, perhaps your landlord does. If you took out a bank loan, your banker should have a copy of those documents. Don't sweat it if you only have a verbal – those are also agreements.
Step three: Reach out and be candid with your landlord.
There is no better time to reach out to your landlord than as soon as you can, especially once you have your documents together. This is an extraordinary time filled with emotion, and we suggest you take a very non-emotional approach. However… remember your landlord is just as anxious and worried about their own income and ability to pay their own bills. In many ways, you're in this together.
The key is to discover what the intention of your landlord is.
Do they expect you to pay your rent in April and possibly May?

If so, the full amount or just a portion for the time being?

If they are giving you a break on the rent, how long will that last for?

Is the "break" on the rent a reduction with the expectation to repay the difference? If so, get that sorted out now and in writing - signed by both partied with an original copy each.
Get that intention figured out first before making any assumptions or making any decisions.
Once you know what they expect, take time to think about your next move. Don't feel pressured to decide anything on the spot, especially if it feels tilted against you. Unless you agree on the spot, decide on a follow up date to take any actions.
Step four: Do not be bullied
We had several disturbing reports of landlords bullying renters into paying full rent with no room for negotiation to not allowing renters in the building to gather personal tools and items.
The best guidance we can give here is to think of this as a landlord-tenant relationship. If you feel the landlord is forcing you to do anything or preventing you from doing what you need to do, then it's likely either illegal or improper.
Step five: Know your options and rights
Options: Yes, this is the weirdest time ever. The good news is we're all in this together. There will be help and assistance. We live in one of the most incredible places and the support is here for you. The BeautyCouncil will publish government assistance programs as they come along.
If you have been saving a few dollars, this might be the time to use them to cover a (negotiated or reduced) rental in April and maybe even May. Or if you own a home, you might have access to a line of credit to cover your payments to your landlord. Consider talking to your bank and ask for a "skip the payment" on a credit card so you have the cash to cover your rent. You could qualify for a loan based on your history with the bank.
Many landlords are going to their own lenders and asking for a break on payments – so why not pass that along to you?
Rights: Even though you might truly enjoy your working relationship, stress like this can bring out new qualities in people you'd never seen before. Remember you are in a strict landlord-tenant relationship. You can do whatever you need to within your agreement (no matter what form that takes), and you have access to your tools and property since you own it. If you have an agreement, now is the time to stick to it.
So what are the next steps? Consider this a chance to learn what you might become after all this is over. Perhaps, if you have a landlord who won't stick by you in a time of crisis, it's time to move on. If you have someone willing to share the costs or even give you a break, you have a new partner in your future.
---
Links:
No tenant in B.C. will lose their apartment due to the novel coronavirus crisis, Premier John Horgan told reporters. Link.
---