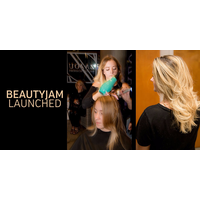 Our first BeautyJam was a great kick off to a series of monthly Jams up and coming with The BeautyCouncil.
Be sure to join our mailing list and attend our next event coming soon.
BeautyJam is an intimate education event held in salons where you can connect, collaborate and come together with your fellow industry professionals. You will learn from some of the best local beauty pros, network with other salon and spa owners and most of all, have fun.
These monthly events are designed to include everyone, regardless of business size, area of expertise or affiliation with a brand. BeautyJam is a place to participate, contribute, watch and enjoy the company of others who want to better themselves as much as you do.
BeautyJams are held at salons near you and feature a guest artist who will demonstrate what they excel at in an intimate setting. You can ask questions, share ideas, take photos and bring a colleague to share the experience with. There are no seats, meaning you get to get up close and personal to see the work being done. Entry is by donation.
These events are about expertise, the craft of beauty and the joy of being in this amazing industry we're all part of. There are no barriers or sales pitches. BeautyJam is just that - a gathering of beauty professionals in a fellow salon's space where ideas and knowledge are nurtured and spread.
Co-ordinated by The BeautyCouncil Western Canada, BeautyJams are open to all salon professionals. Please join us for our next BeautyJam - details on beautycouncil.ca or on BeautyCouncil social media channels.
Join our mailing list today!
---