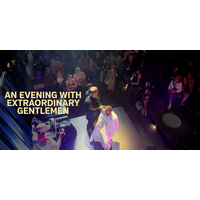 Salon owners, stylists and beauty professionals packed into the Republic Nightclub on October 2nd to witness the BeautyCouncil's Evening with Extraordinary Gentlemen event.
---
The night was a showcase of amazing work from the British Barber Association's Chris Foster and Erik Lander, both who flew in from the UK for the event. The opening act was Aldrich Miranda, barber at Vancouver's Titanium Studios who delivered an incredible session on his graduated fading technique.
Chris and Erik demonstrated their latest collection, a Saville Row inspired set of looks that covered a wide variety of styles and client types.
The evening event was followed by a hands-on class on Monday at London School where stylists got to perfect their skills from the stage event. BeautyCouncil members signed up with a discounted rate for these valuable events and classes.
Here are some photos from the night. Be sure to join us for our next educational event series.
From left: Chris Foster, Aldrich Miranda, Erik Lander and BeautyCouncil Executive Director, Fiona Chambers.
Aldrich Miranda and his dedicated fan base, post-show.
Lance Blanchette and Martin Hillier from The Lounge Hair Studio in Vancouver.
Erik Lander and model on stage.
Two of the models, backstage.
---